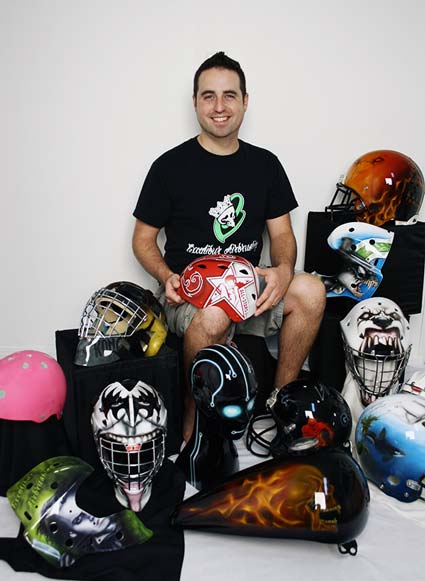 Ian Johnson
has climbed steadily to being one of Canada's most sought after Airbrush Artists.
Ian has been working as a professional Airbrush Artist and Illustrator since 2003, painting motorcycles, goalie masks, cars, guitars, kitchen aid mixers, book covers, computer towers – anything and everything that can be custom painted into a unique piece of beautiful artwork. He always looks forward to bringing his artwork to the next level with every project he works on and has an amazing talent of being able to take a few key ideas from his clients and come up with a unique design that matches or even surpasses what they had envisioned.
Ian Johnson is in rare company as one of Only 2 Certified Airbrushing Professionals in all of BC and One of Only 23 in the Whole World!
He is the official airbrush artist for Monster Energy Canada and has had the ongoing privilege of airbrushing for the NHL (including the Vancouver Canucks), BC Lions, Team Canada Winter and Summer Olympic Athletes NLL, WLA, BCHL, AHL and WHL.
As one of only 23 ITECH/Bauer certified airbrush artists in the world, he has been trained to paint on almost any surface and is always ready to take on any new surface as a challenge.
Ian's goals are to create individual and exclusive designs for each of his clients. He is a driven artist with an energetic and graphic imagination who is always learning and pushing the boundaries of his craft.
Find out why certification is so important for your health & safety
Tammy Johnson
Tammy is the other half of Excalibur Airbrushing and runs the marketing, administration and client services departments (she'll usually be the one replying to your emails). She's also the one who will be making a donation on your behalf…
"Ian and I are very passionate about giving back to those in need. One of the ways we do this is by contributing at least $50 from each project we work on, to local and global non-profit organizations whose mandates are to meet the immediate and long-term needs of those living in poverty. So, if you decide to have your project done with us, in addition to receiving an amazing piece of artwork, you'll also be helping to bring aid and resources to families and children dealing with the challenging effects of poverty. We feel so grateful and blessed to be working together and doing something we love so if we can bless others through that, well that just makes our hard work all the more worthwhile."
A Message From Ian

I know you don't want boring… you wan't incredible!

Keeping this in mind, I am committed to providing all my customers the most unique & creative art work that reflects their own tastes.

Trusting someone else to bring your ideas to life is a challenge – that's why I start every project with a one-on-one or telephone consultation. This is what I do all day every day – I never stop learning or striving to improve my craft. Complacency is not welcome in my studio so you can be rest assured that I will always work hard to give you something unique – never something boring!

This ensures your illustration or custom paint job is everything you hoped for & more!